REGISTERS OF HEALTHCARE SYSTEMS OF NORTHEN EUROPEAN COUNTRIES
Keywords:
system of electronic information resources, registers of health care system, Northern European countries
Abstract
The introduction of electronic register systems for all spheres of state functioning is becoming more widespread in developed countries. It is the systems, not individual registers, that create the conditions for the comprehensive and effective use of available information in the field of state and local government, research, business planning, and so on. In our opinion, health care registries are the most important among other systems, so it is important to study the experience of the most developed countries in the field of creating electronic medical information resources. The use of the experience gained by advanced European countries in this area is especially useful for Ukraine, where such a system is being developed.
The purpose of the article is to summarize the experience of Northern European countries in the use of electronic information resources of health care for its implementation in Ukraine.
The novelty of the article is a generalized and comparative analysis of health registry systems in Denmark, Norway, the Netherlands, Estonia, Sweden, Finland and a study of the role of medical, statistical and scientific institutions in the development of these systems.
The research methodology is based on the application of the following methods: system analysis, scientific generalization, comparative analysis, research methods of complex systems.
The article examines the health care systems of six northern European countries, compares the composition and features of these systems. The focus is on electronic information resources, which are introduced only in some countries. It is established that the Danish and Norwegian systems are the most branched among the systems of other studied countries and contain not only a larger number of specialized registers, but also have the largest number of organizations that maintain these registers. The holders of registers and databases in different countries are not only the relevant ministries but also research institutes and universities. In addition, statistical authorities also create registers that are used for society's statistical information needs. The study thus summarizes the experience of creating and operating electronic information resources in the field of health care in Northern European countries, concludes that it can be used in the implementation of a similar Ukrainian, the process of which began several years ago.
References
Gladun, O. M. (Ed.). (2021). Electronic registers: European experience of creation and use. Ptoukha Institute for Demography and Social Studies of the National Academy of Sciences of Ukraine. Kyiv. IDSS. https://idss.org.ua/arhiv/registers.pdf [in Ukrainian].
Bergem, A. L. (2002). Norwegian Twin Registers and Norwegian twin studies an overview. Twin Res, 5 (5), 407-414. https://doi.org/10.1375/136905202320906183
Brooke, H. L., Talback, M., & Hornblad, J. et al. (2017). The Swedish cause of death register. European Journal of Epidemiology, 32 (9), 765-773. https://doi.org/10.1007/s10654-017-0316-1
Taruscio, D., Kodra, Y., Ferrari, G., & Vittozzi, L. (2014). The Italian National Rare Diseases Registry. Blood Transfusion, 12, 606-613. https://www.ncbi.nlm.nih.gov/pubmed/ - 24922301
Hammill, B. G., Hernandez, A. F., Peterson, E. D., Fonarow, G. C., Schulman, K. A., & Curtis, L. H. (2009). Linking inpatient clinical registry data to Medicare claims data using indirect identifiers. American heart journal, 157 (6), 995-1000. https://doi.org/10.1016/j.ahj.2009.04.002
Brooke, E. M. (1974). The current and future use of registers in health information systems. Geneva: World Health Organization. Publication No. 8. https://apps.who.int/iris/handle/10665/36936
Nelson, E. C., Dixon-Woods, M., Batalden, P. B., Homa, K., Van Citters, A. D. & Morgan, T. S. et al. (2016). Patient-focused registries can improve health, care, and science.BMJ, 354. https://doi.org/10.1136/bmj.i3319
Gliklich, R. E., Dreyer, N. A., & Leavy, M. B. (2014). Registries for Evaluating Patient Outcomes: A User's Guide. Editors. Rockville (MD): Agency for Healthcare Research and Quality (US). Apr. 295. https://www.ncbi.nlm.nih.gov/books/NBK208643/
Kennedy, L., & Craig, A. M. (2004). Global registries for measuring pharmacoeconomic and quality-of-life outcomes: focus on design and data collection, analysis, and interpretation. Pharmacoeconomics, 22 (9), 551-68. https://www.researchgate. net/publication/ - 276975034_Global_Registries_for_Measuring_Pharmacoeconomic_and_Quality-of-Life_Outcomes
Dawson, J., Tulu, B., & Horan, T. A. (2009). Towards Patient-Centered Care: The Role of E-Health in Enabling Patient Access to Health Information. In E. Wilson (Ed.), Patient-Centered E-Health, 1-9. IGI Global. http://doi:10.4018/978-1-60566-016-5.ch001
Kobrinskii, B., & Breusov, A. (2019). Health Information Systems and Registers. E-Health Telecommunication Systems and Networks, 8, 11-22. http://doi: 10.4236/etsn.2019.82002
Kastane, M. (2013). Registration of citizens in Denmark. Public Control Bulletin, 3. http://www.zagr.org/1387.html [in Russian].
eSundhed (2021). Registre. https://www.esundhed.dk/Registre/
Aarhus BSS (2021). Th e National Centre for Register Based Research. Danish Registers. https://econ.au.dk/the-national-centre-for-register-based-research/danish-registers/
NIPH-Norwegian Institute of Public Health (2021). Health Registers. https://www.fhi.no/en/hn/health-registries/
Kreft registeret (2021). https://www.kreft registeret.no/Generelt/Om-Kreft registeret/
Helsedirektoratet (2021). https://www.helsedirektoratet.no/tema/statistikk-registre-ograpporter
Forsvarets (2021). Helseregister. https://forsvaret.no/fakta/forsvarets-helseregister
Arkivverket (2021). https://www.arkivverket.no/om-oss/norsk-helsearkiv/om-oss#!#blockbody-0
Ministerie van Volksgezondheid, Welzijn en Sport (2021). https://www.cibg.nl/productenen-diensten
Farmatec (2021). https://www.farmatec.nl/
DHD. Dataverzameling-LBZ (2021). https://www.dhd.nl/producten-diensten/lbz/Paginas/ dataverzameling-lbz.aspx
Donorregister (2021). https://www.donorregister.nl/
Donorgegevens (2021). https://www.donorgegevens.nl/
SVH. Register Sociale Hygiene (2021). Over het Register. https://www.svh.nl/LEC-SVH/Over-het-Register/&usg=ALkJrhj3mg6xrqWEZJkn6T9999QGd0AD8Q
TEHIK (2021). Uleriigiline digiregistratuur kaivitub joudsasti. https://www.tehik.ee/uudis/uleriigiline-digiregistratuur-kaivitub-joudsasti
Tai-Tervise Arengu Instituut (2021). https://www.tai.ee/et
Krashevskiy, A. (2019). Patient medical error insurance fund to start working in summer 2021. ERR. https://rus.err.ee/950208/fond-strahovanija-pacientov-ot-vrachebnyhoshibok-zarabotaet-letom-2021-goda [in Russian].
Lepassalu, V. (2019). The Doctors' Union: Everyone Benefits from the Register of Medical Errors. Capital. https://stolitsa.ee/estoniya/soyuz-vrachey-ot-registra-vrachebnykhoshibok-vyigrayut-vse [in Russian].
Socialstyrelsen (2021). https://www.socialstyrelsen.se/en/
Finnish Institute for Health and Welfare (2021). https://thl.fi /en/web/thlfi -en/statisticsand-data/statistics-by-topic/database-reporting#Primary_care
Statistics Finland (2021). Causes of Death. https://www.stat.fi /til/ksyyt/index_en.html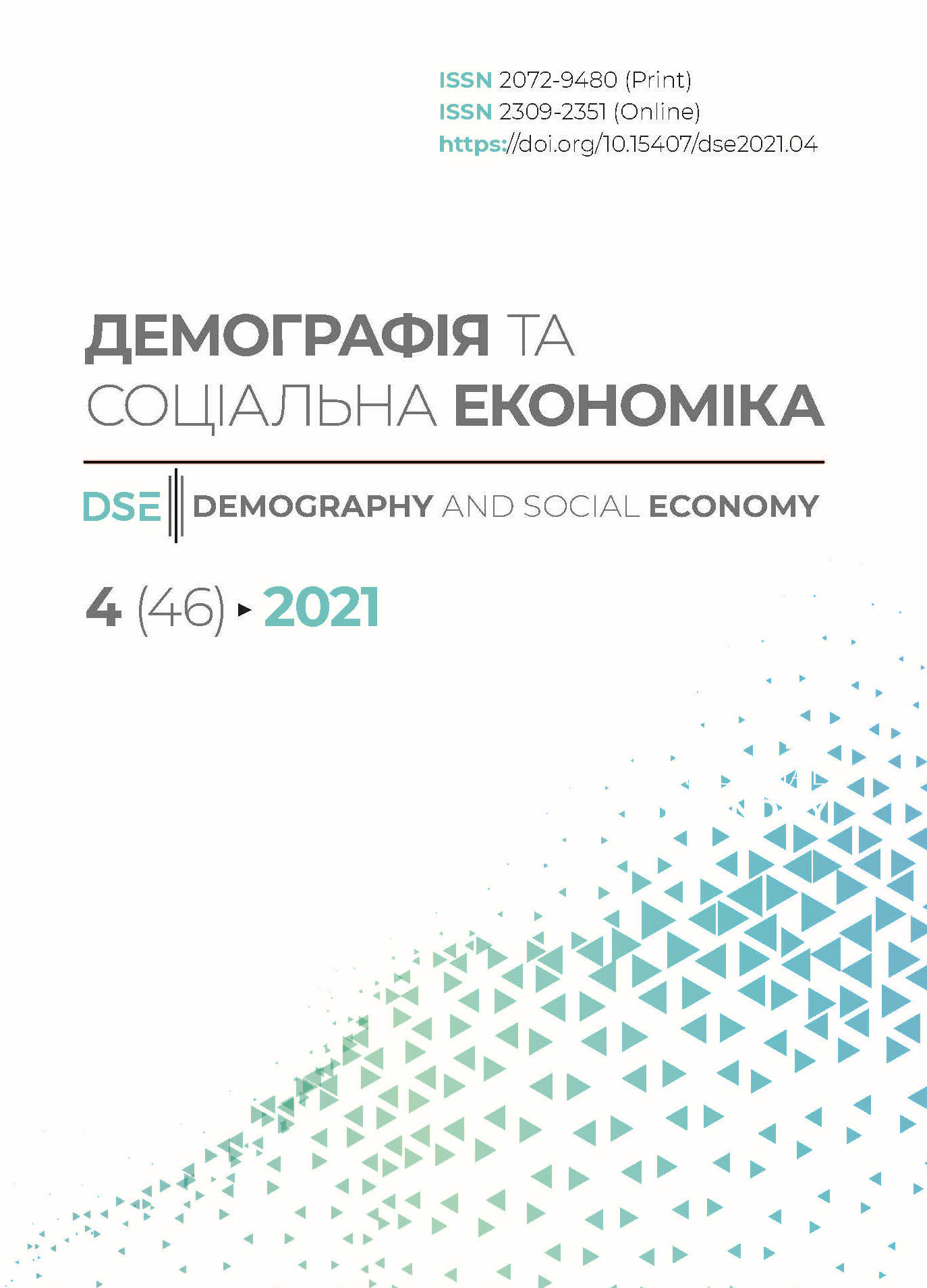 Downloads
How to Cite
Пугачова, М., & Гладун, О. (2021). REGISTERS OF HEALTHCARE SYSTEMS OF NORTHEN EUROPEAN COUNTRIES. Demography and Social Economy, 46(4), 21–37. https://doi.org/10.15407/dse2021.04.021
Section
Demographic Processes
License
Copyright (c) 2022 Марина Пугачова, Олександр Гладун
This work is licensed under a Creative Commons Attribution-NonCommercial-NoDerivatives 4.0 International License.